Are you planning a camping with swimming pool holiday?
There's nothing the kids enjoy more than splashing in the pool when they're on holiday.
Why not book your next break at a campsite with a swimming pool and enjoy the luxury of the site's facilities and fun in the water?
Family camping for the kids to play in the water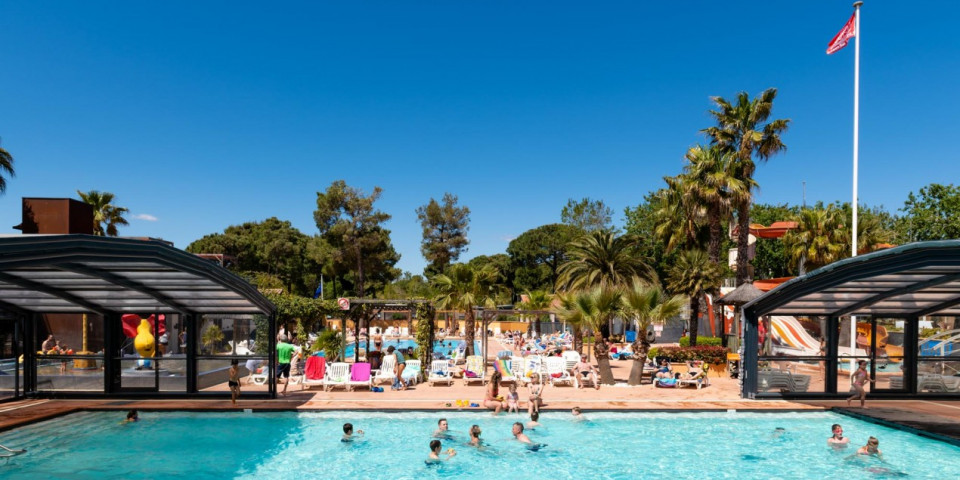 Are you looking for a campsite with a water park in France?
Campsites with swimming pools are a great choice for families that want to enjoy spending time outdoors. Whether you've got toddlers or teenagers, a holiday park with a pool means you can keep an eye on them while they have hours of fun.
have a selection of indoor pools, outdoor pools, and heated pools. You'll find toddler pools for the little ones, flumes and water slides for older kids, and plenty of room for mum and dad to sunbathe.
European summers are sunny and warm, and there's no better way to cool off than at your campsite water park. Many of our campsites have covered pools and an indoor swimming pool too, offering some welcome shade in the heat of the day.
Take a dream camping holiday in Spain
If you want to travel further afield why not book a Sunêlia campsite with a waterpark in Spain this year? Spain is the perfect location for guaranteed summer sunshine and the chance to experience the delights of Mediterranean life.
Our 4-star campsites on the Costa Brava offer plenty to do, including water parks, aqua Zumba and aqua aerobics for mum (and dad!), a dedicated play area for youngsters, and sports tournaments such as water polo and water basketball.
Enjoy a water holiday with a campsite pool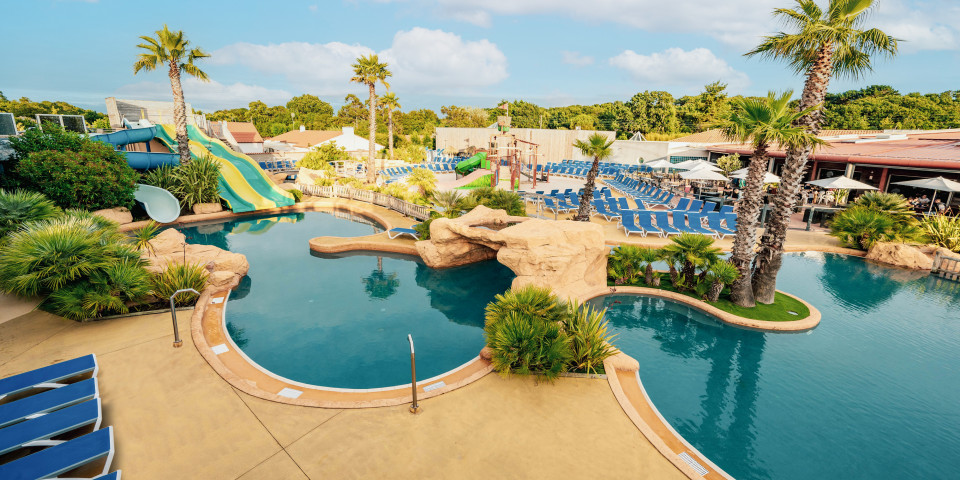 Choose a beachside campsite in France
Whether you enjoy the thrill of the waves or the tranquillity of an outdoor or heated pool, Sunêlia has a range of campsites next to the sea or near lakes and rivers to choose from. A camping holiday by the sea or a lake gives you the best of both worlds.
Whether you want to set up your tent or stay in a 5-star luxury mobile home, Sunêlia has a selection of family holiday campsites close to the beach.

If you're looking for 5-star luxury camping near the sea we suggest our campsite near the pretty seaside town of Saint-Brevin-Les-Pins. Family friendly with all the amenities you'd expect from a high-end campsite, Sunêlia Le Fief promises a holiday to remember.


Love nature? Try camping in the Midi-Pyrenees or the Ardèche
If you want the flexibility of a and to discover the surrounding countryside the town of Argelès-Gazost at the base of the Pyrenees is ideal. Spend the day walking in the mountains, stop for a picnic, and then return to your campsite for a fun afternoon by the pool.
Perhaps you prefer riverside camping? If so, then consider Sunêlia Le Ranc Davaine in the Ardèche; it is an excellent choice. Set in a wooded park on the banks of the Chassezac River, you can walk in the forest, try out your favourite watersports and relax in the connected pool complex.
Waterside camping for couples and adults

The luxury of camping with a spa
Sunêlia campsites are not just a great choice for families. Why not book a luxury camping holiday with your partner or a group of friends and get away from it all? If you want to forget day-to-day life and spend some quality time with friends or your partner, a campsite with a spa is the way to relax and unwind.
Several Sunêlia campsites offer the chance to escape and pamper yourself in the wellness centre. Massage, beauty treatments, whirlpools and steam rooms…treat yourself to some 'you time'. Have you ever been to the French Riviera? The Sunêlia campsite in Fréjus is the perfect location for a spa camping holiday.
Stylish campsites with heated indoor pools
Whether you select a 5-star or 4-star campsite you can be sure you'll have access to a range of luxury facilities with Sunêlia. Lounge by the pool in the afternoon with a cocktail by your side, take a leisurely dip and let the warm water relax you.

Before you spend the evening at one of our campsite restaurants enjoy the peaceful surroundings of your mobile home, watching the sunset with a glass of wine in hand. Why not try the Sunêlia campsite in San Remo, Italy, and enjoy the magnificent views of the mountains and the Mediterranean?
Camping can be fun for all ages and is a flexible way to enjoy a holiday by the sea or next to a lake. If you take your camping-car, you can be on the beach one day and enjoy a walk in the mountains the next.