Camping fun for all ages
Camping is the best way to get in touch with nature. You can walk in the countryside, spend days on the beach or just relax at your luxury campsite. Here are some ideas to keep everyone busy on a family camping holiday.
Connect with nature on a camping holiday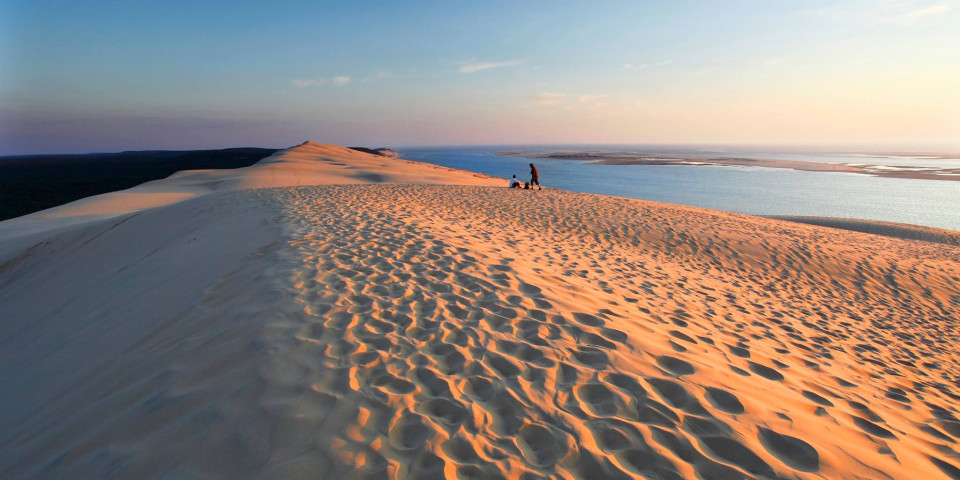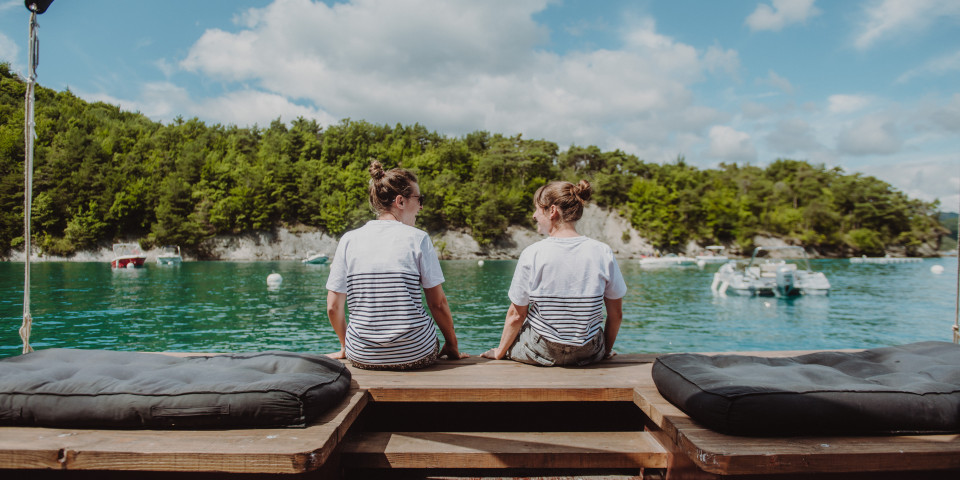 Camping on the coast
Choose a Sunêlia campsite at the beach and you'll experience the best of both worlds – the campsite facilities and days enjoying the sun, sea and sand.
The kids will love building sandcastles while you can watch them from the shade of your parasol.
Whether you love sunbathing, swimming in the sea or the campsite pool, holidays at the beach make lasting memories.
Forget the car and book a campsite with direct access to the beach for your next fun-filled camping trip.
Countryside camping
Camping is all about spending time in the great outdoors and what better way to enjoy the amazing scenery of Europe than at a mountain campsite? You can spend your time hiking or cycling and return to the comfort of your campsite at the end of the day.
Are you not sure where to go on holiday this year? Why not try camping in France and reserve a spot at one of our campsites with direct access to a lake where you can try canoeing or paddleboarding or just take a refreshing dip?
Disconnect and leave technology behind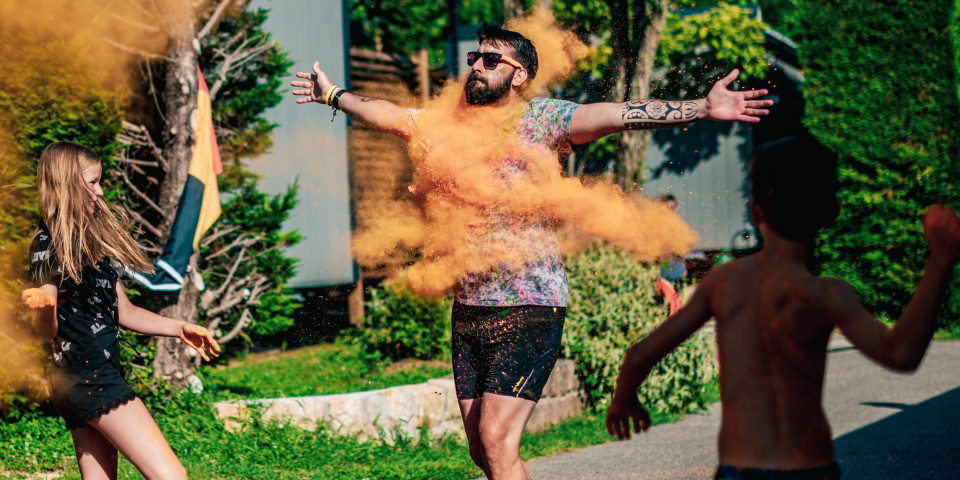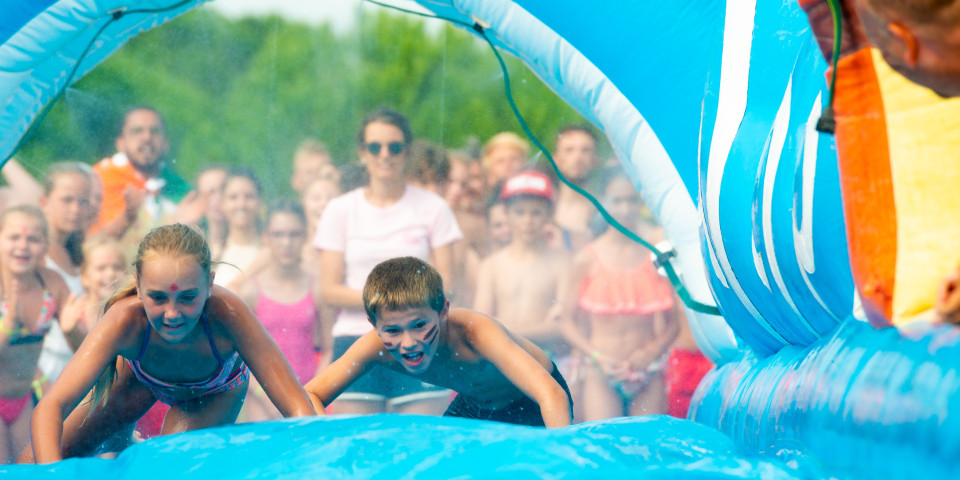 Try out these fun camping games
Camping allows you to spend quality time with your loved ones, away from the distractions of everyday life.
Whether roasting marshmallows around the campfire or playing camping games in your tent, there are countless ways to have fun.
You could organise scavenger hunts, play flashlight tag or play card games. Board games are also a great way to interact and have fun and charades always makes everyone laugh.
Opportunities for adventure and excitement
From kayaking to rock climbing, there are plenty of ways to get your adrenaline pumping while staying at a Sunêlia campsite.
Our 4-star and 5-star campsites also offer sports activities such as football or basketball to keep you busy.
If you prefer a more laid-back approach, you can still have fun fishing, bird watching, or exploring the trails around your campsite. And the campsite pool is always available to swim a few laps before dinner or breakfast (if you're feeling energetic!).
Where to choose a fun campsite?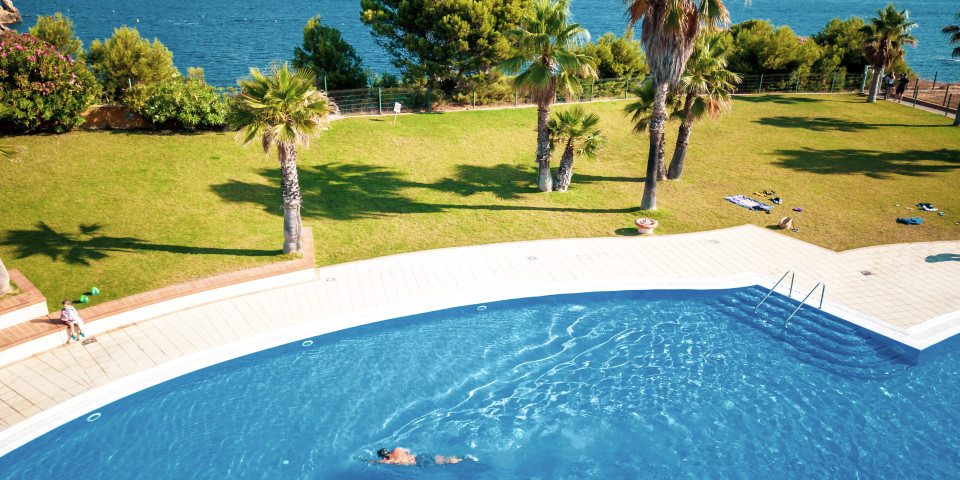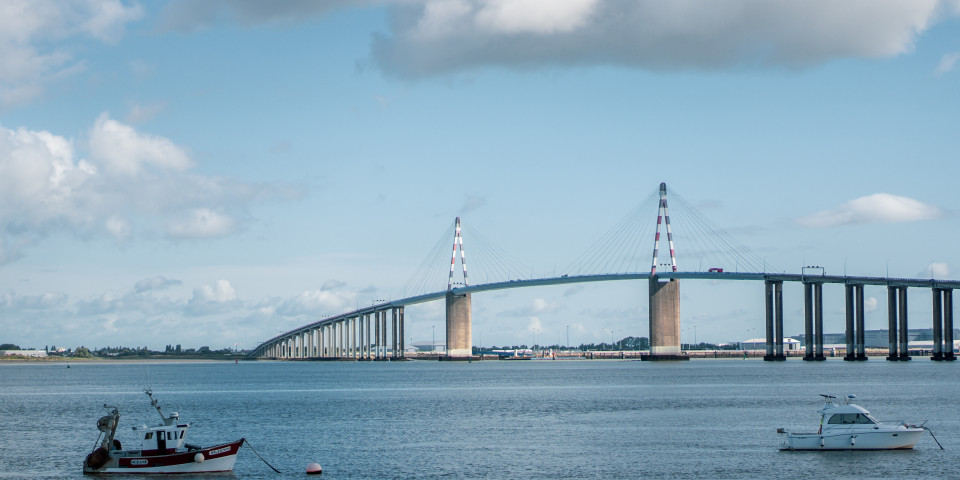 Discover our European campsites
One of the biggest attractions of camping is that it allows you to explore the outdoors and discover new places.
For a memorable family camping holiday why not try a campsite in the Netherlands and rent bicycles to explore?
For guaranteed sunshine during the summer months, camping in Spain promises plenty of fun. Do you want to go upmarket and camp in style?
Try our luxury Italian campsites on the Italian Riviera and next to the warm waters of the turquoise Mediterranean.
Seaside or mountain camping?
Whether you're camping in a large group or as a couple, the location you choose depends on your interests.
If you're after an outdoor adventure a countryside campsite will suit you, while beach lovers will appreciate a seaside campsite.
Active families that enjoy water sports will find camping on the Atlantic coast great for surfing and sailing, while the Mediterranean beaches are ideal for children.
They'll also enjoy splashing in the campsite waterpark and a couple of hours at the kids' club.
Take advantage of the campsite facilities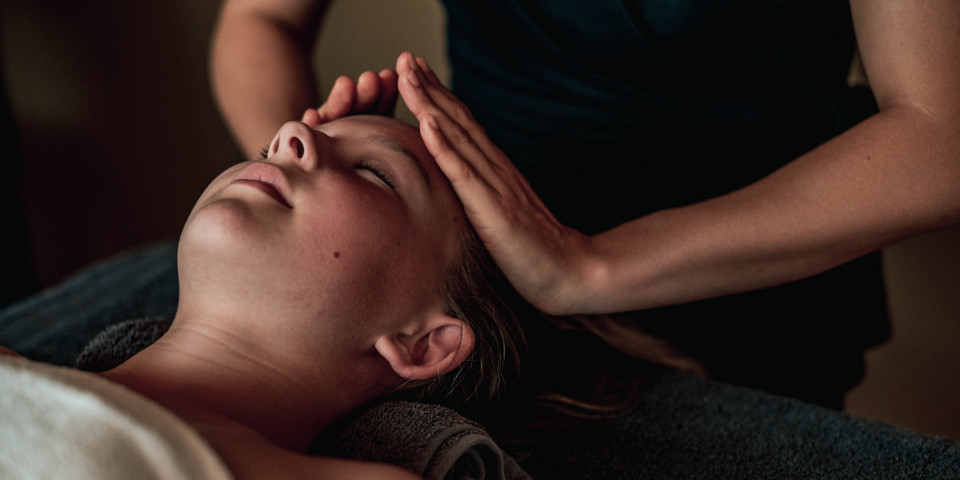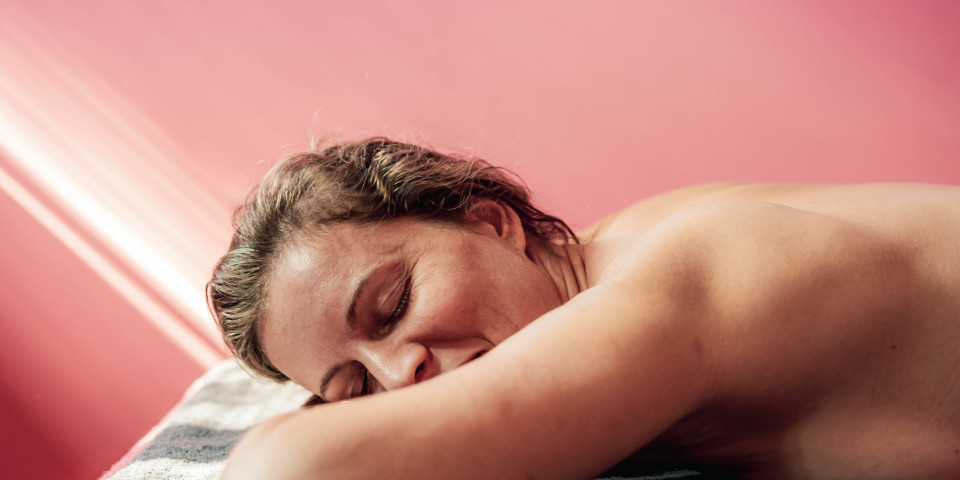 Take time out from the routine and relax
There are plenty of fun camping activities to keep you occupied at your Sunêlia campsite.
From energetic aqua aerobics sessions to a pampering session at the campsite spa, followed by a dip in the hot tub, you'll be spoilt for choice.
Our glamping campsites offer a vast selection of luxury mobile homes where you can sit peacefully on your terrace and read a book, play family games or just spend time chatting.
Having camping fun is about doing what makes you happy.
Go stargazing
The fascination of the night sky, watching the moon and maybe even spotting a shooting star is all part of the camping zen experience.
What better way to forget your worries and connect with Mother Nature?
The longer you look the more stars you'll see – what a fantastic way to spend an evening!
Don´t forget to pack your binoculars to ensure you get the best view of the stars. Grab a glass of wine or a beer, lie back and lose yourself in the universe.
Enjoy the simple things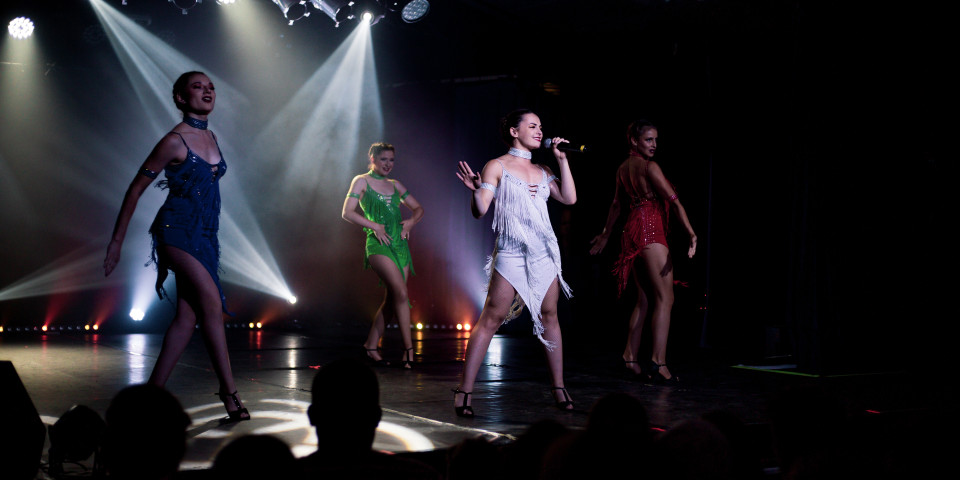 Free outdoor entertainment
The simplest activities are often the best. There's no need for Wi-Fi (although we do supply it free of charge at all our campsites), phones or tablets.
Just you and your campsite surrounded by nature.
A favourite game is skimming stones on a lake or into the waves.
You could organise competitions with the members of your group and make it competitive. Kids will love this simple activity that provides hours of fun.
Are you artistic?
Maybe you've always fancied being able to paint or draw. This is your chance to be creative and sketch a picture of your surroundings.
The stunning views around our campsites are sure to inspire you.
If you're musical pack the guitar and have a singsong in the evenings. This is a great way to attract the attention of your campsite club neighbours.
Who knows you may become lifelong friends and explore other camping locations together.
Plan your fun camping trip in advance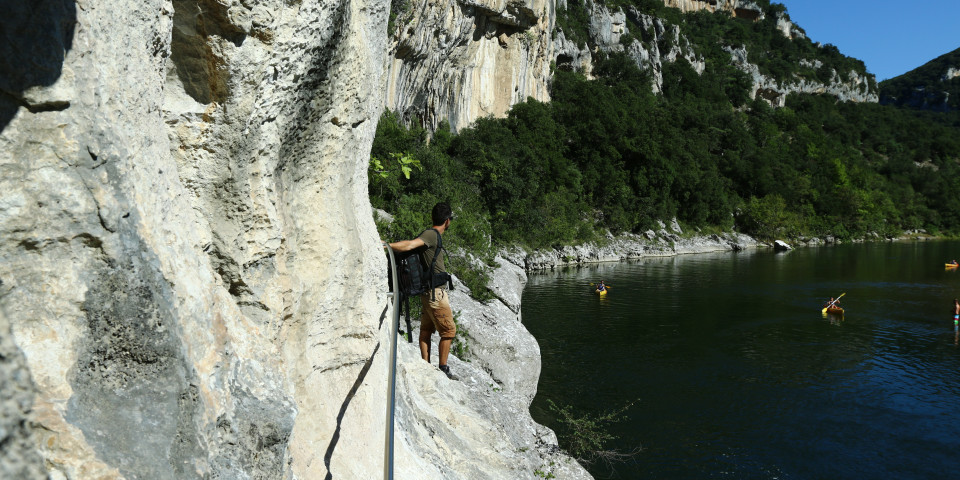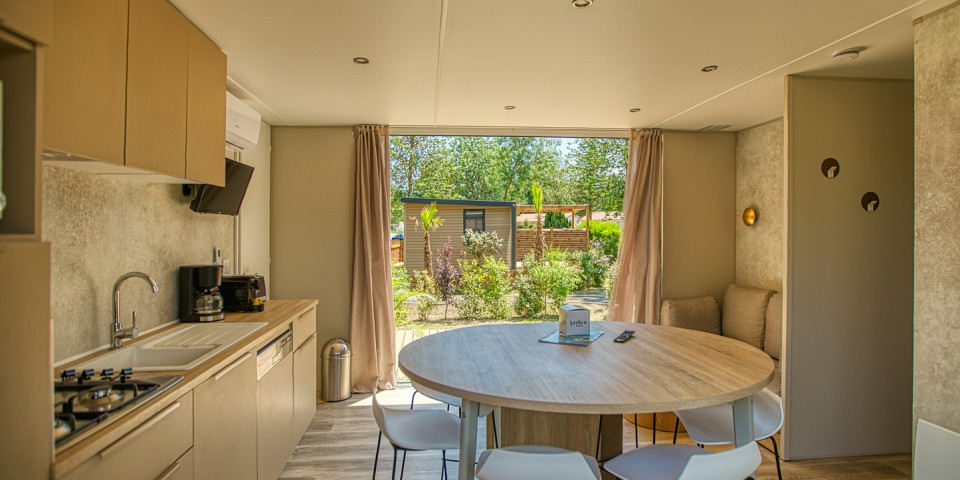 Make a list of activities
To save time thinking of things to do, especially if there's a rare rainy day make a list of camping games and fun activities before you set off. Ask every member of your camping party to come up with ideas.
Make sure you pack the cards, games and prizes so you're fully prepared for your fun times at your dream campsite.
Create memories of your camping trip
Part of the fun of camping is looking back on your time away when you're back home and planning the next trip. As well as taking plenty of photos collect mementos of your stay in nature.
This is a fun activity for kids, and they can gather simple items such as stones, twigs, flowers to dry and seashells.
Making a scrapbook while you're at the campsite is a great way to tell the story of your luxury camping trip.
Whether you're walking through a forest, swimming in a lake, or lounging around the campsite heated pool, there's always something new to see and do on a camping holiday.
3 key points to remember
Having fun means looking after yourself – which is why we offer many wellness campsites.
Having fun doesn't have to cost money – invented games are just as much fun as expensive shop-bought ones.
Check out our affiliate links for more camping opportunities.