Down by the Water


Sunêlia l'Orangerie de Lanniron campsite
Holidays with a water theme in Quimper! What are you waiting for, come and have some fun at the 1,500m² pool complex.
You can relax all season long in the heated pools, hot-tubs, let the current carry your along the river and swim under the fountains and water jets, while your children happily splash about in the paddling pool.
Unless you'd prefer to whizz down the winding slides?
Our water park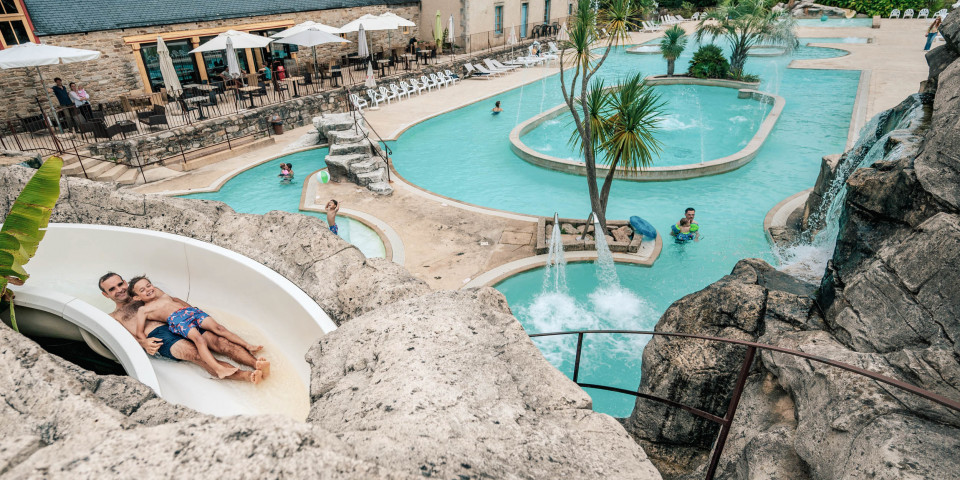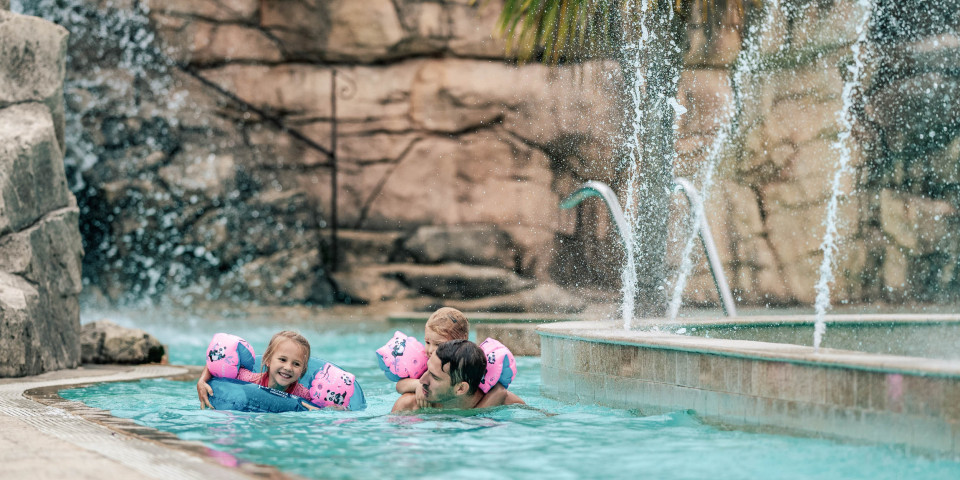 Outdoor heated pool
every day from May to mid-September
In the warm sun of Brittany, come and splash about in the 600m² of outdoor pools at Sunêlia l'Orangerie de Lanniron. Swim in the inviting, blue waters of this heated pool complex, with waters at a temperature of approximately 27°.
Do you want to get some exercise in the water? Take advantage of the sheer size of the pool to get in some early morning lengths.
Would you prefer to relax? Let the current carry you along, past the rocks, in the counter-current river. Alternate between relaxing and swimming thanks to the massage benches, waterfalls and hot-tubs in the middle of the main pool.
Lie down to relax on one of the available sun loungers in this holidaymaker's paradise, and read a book as you sunbathe in Brittany.
That is not all, the bar L'Orangerie next to the swimming pool serves refreshments, ice creams and pancakes.
Make the most of it, because at Sunêlia L'Orangerie de Lanniron, we like to pamper you!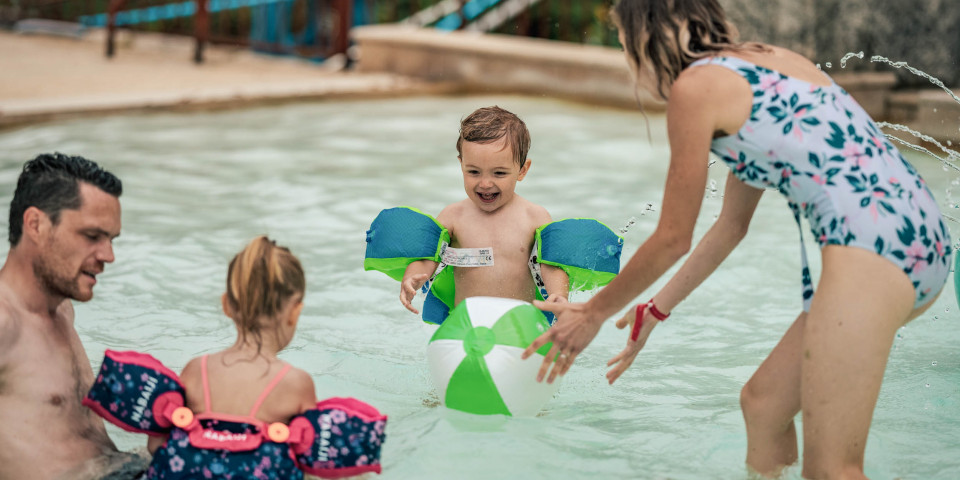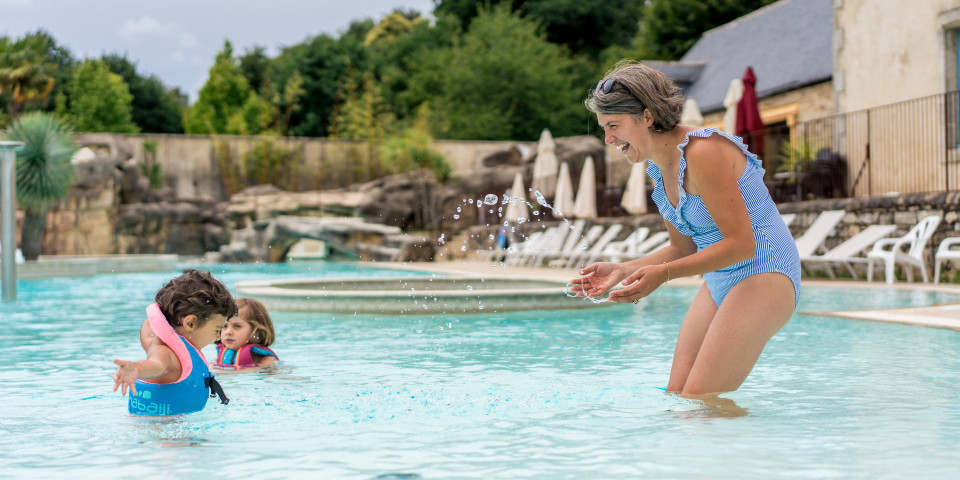 Heated paddling pool
every day from May to mid-September
Paddling pool and water jets
This area is for your little ones. They can splash about safely in their own outdoor paddling pool, next to the main pool. next
The little ones will love splashing around in complete safety in the shallow pool and playing with the water jets under the rain tree.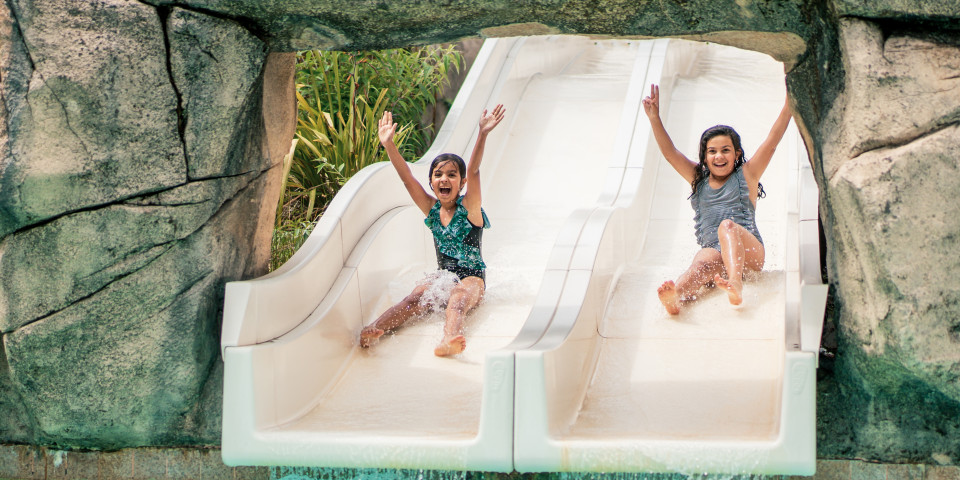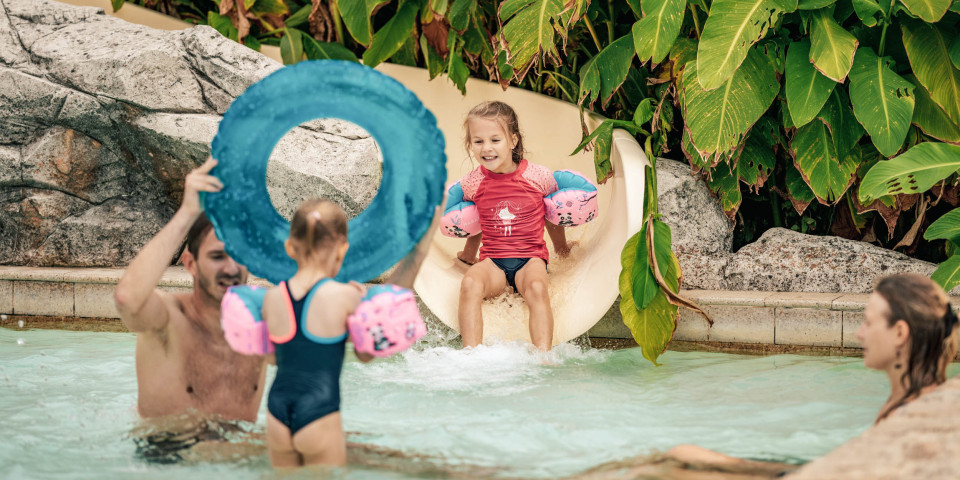 Winding slides and flume slides
every day from May to mid-September
3 winding slides and flume slides
Adventurers will be whizzing down the big 3-metre-long slide, laughing uncontrollably around the bends! Hidden in amongst the rocks, fly through the tunnel, pick up speed and arrive with a splash at the bottom, howling with laughter.
An opportunity to have a ball as a family, for an experience filled with laughter and splashing.
The more daring family members will whizz down the double water slide under the watchful eyes of their parents.
Excursions involving water in the surrounding area