Le Ranc Davaine campsite: a nature holiday in the Ardèche
Check Out Our 5-Star Campsite In Saint-Alban-Auriolles, Ardèche
Sunêlia Le Ranc Davaine campsite is on the banks of the Chassezac river and is set in a 37-acre wooded park.
This 5-star campsite in South Ardèche is the perfect place for a luxury holiday in the countryside, surrounded by white oaks.
Have a wonderful family holiday in the great outdoors, in the stunning French region of Auvergne-Rhône-Alpes. Let the song of the cicadas soothe your soul during your dream holiday near Monts d'Ardèche Regional Natural Park.
This open-air hotel, near the Gorges de l'Ardèche in Saint-Alban-Auriolles, is open from April. Whether it's during the week or at the weekend, take advantage of the many premium facilities on offer at this campsite.
In this land of sun, garigues and vineyards, whether it's for a weekend getaway or a week-long holiday, make use of our eateries, sporting activities, pool complex and evening entertainment. Unwind in the wellness area and Spa while your little ones have a blast at the Sunny Club!
Accommodation
We have thought of everything:
Warranty cancellation offered
Advantages of Sunêlia Le Ranc Davaine Campsite
Holidays in the Ardèche: A Perfect Blend of Nature and Sports
500 chemin du Ranc Davaine, 07120 Saint-Alban Auriolles
What our customers say
Positive points
Great pool, friendly professional staff, great entertainment and great food
Positive points
Animation piscine bar restaurant
Area for improvement
Du bruit parfois très tardif de certains Mobil home
Positive points
Son parc aquatique, animations
Area for improvement
Interdire les terrains foot… avant 9h
Positive points
camping propre convilale accueillant animation au top pour les enfants emplacements spacieux
Area for improvement
douche plus grande
Positive points
L'organisation avant l'arrivée, le parc aquatique, les équipements propres et soignés.
Area for improvement
Le snack : beaucoup d'attente et paninis servis froids
Positive points
Accueil chaleureux, activités proposées et animations
Area for improvement
2 pannes de chauffe eau durant notre séjour
Positive points
Propreté du site Charme Ombrage Site aquatique de qualité
Area for improvement
Tarifs de fidélisation Horaires de la supérette et snack
Positive points
Rivière Animations Accueil Bonnes prestations
Area for improvement
Piscine pas assez chauffée côté toboggan Araignées dans le mobilhom
Positive points
Mobil home très agréable et bien étudié Calme dans le camping Complexe piscine
Area for improvement
Manque de sécurité au niveau des toboggans de la piscine
Positive points
Bien ombragé
Whitewater sports in the Ardèche
Sunêlia Le Ranc Davaine is a land of streams, rivers, gorges and famous caverns to be explored all while being lulled by the song of the cicadas. This 5-star campsite in the Ardèche, bordered by the Chassezac river, is home to lots of natural treasures.
This spectacular natural beauty is crying out to be explored through various outdoor activities. There are several canoeing routes in the Gorges de l'Ardèche and the Chassezac river. You can also try out different white-water sports such as kayaking, paddleboarding, and canyoning with your sweetheart or with your family. Take a bike ride along the banks of the river through lush countryside.
Visit outstanding nature sites in the Ardèche
Explore the region's most beautiful natural heritage during your stay in the Ardèche!
The Ardèche is home to several iconic natural sites and heritage treasures in the South of France. The campsite is the perfect stepping stone into the Ardèche where you can explore and visit some of the most beautiful natural sites in the region.
Explore the charming medieval villages of Vogüe and Labeaume in the Ardèche. Saint-Alban-Auriolles, a small medieval village from the 10th century is best explored as you stroll through its picturesque and traditional streets or during the night markets.
Must visits include hiking to the Pont d'Arc and the Cascade du Ray Pic. Climb up Mont Gerbier de Jonc and take in the breathtaking replica of Grotte Chauvet 2 or explore the underground caves of Aven d'Orgnac and the Grotte de la Madeleine.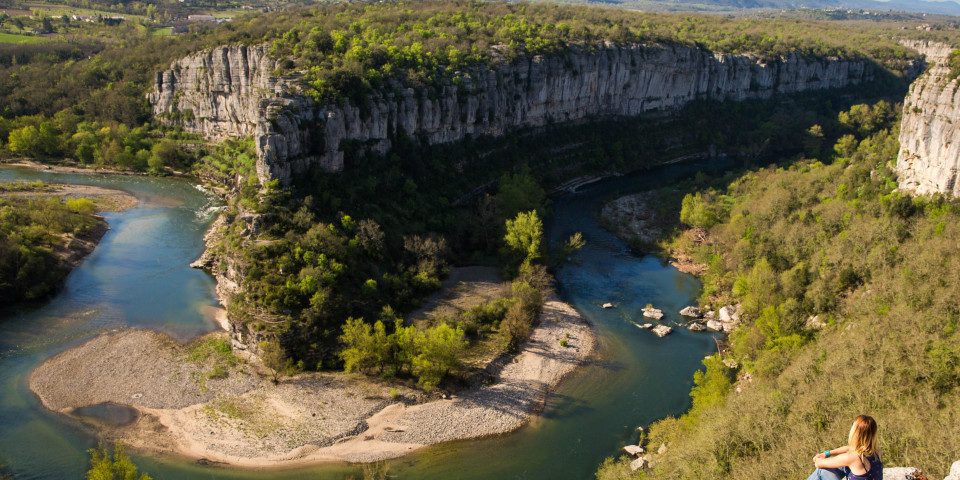 Tourist must-visits in Saint-Alban-Auriolles, in the Ardèche
The Ardèche gorges
Vallon Pont d'Arc
Ray-Pic waterfall
The Chauvet cave
Labeaume, a beautiful village nestled in the heart of the Beaume gorges
The castle of Voguë
The Orgnac cave
The Cocalière cave
Camping in the surrounding area
Mobile homes for rent in Saint-Alban-Auriolles in the Ardèche
A luxury mobile home in Saint-Alban-Auriolles
Have a dream holiday in Saint Alban Auriolles near the Gorges d'Ardèche! With more than 500 holiday pitches, you can fully enjoy your holiday in a luxury Sunêlia Prestige Premium mobile home. Make the most of the great outdoors by the river as a family from your shaded outdoor terrace.
A unique holiday rental in the Ardèche
Do you want to awaken your inner adventurer? Our Lodge tents are very popular with guests. These luxury rentals are an excellent alternative to traditional camping. For your stay in the Ardèche, book a holiday in the heart of nature.
A Campsite in the Ardèche: A Riverside Pitch
Campervan, caravan and tent pitches in the Ardèche
Do you love the great outdoors? Do you prefer traditional camping?
Have an unforgettable holiday by booking a camping pitch. Make the most of your stay in the countryside in the heart of the Ardèche forest.
Camping pitches in the great outdoors in Saint-Alban-Auriolles
Relax on one of our spacious and shaded 90m² to 100 m² plots with a 10-amp power supply.
Whether you're visiting with your family, or with your sweetheart, take in the benefits of the great outdoors on our leafy and floral pitches.