Bars and restaurants Holiday Green
Restaurant

Sunêlia Holiday Green
During your holiday on the French Riviera, treat yourself at Sunêlia Holiday Green. Just a few metres from the beaches on the French Riviera, our 5-star campsite's restaurants and bars are perfect for a delicious break.
Sample exquisite dishes at the Restaurant, unwind at Lounge-Bar, have breakfast at Chez Tony et Sandy and indulge in a delicious snack at La Paillote.
Restaurant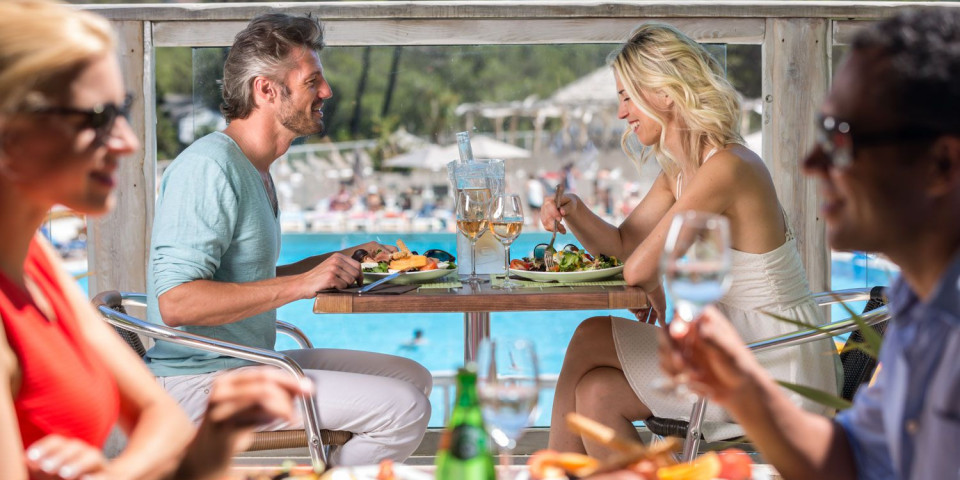 The Restaurant: keep the relaxation going by the sea
daily from May to September
6:30 p.m. to 10:30 p.m. (opening times vary depending on the number of visitors)
To book, call +33 (0) 4 94 19 88 39
You holiday starts in this restaurant in Fréjus, which is open every evening. Sample Mediterranean flavours by the Mediterranean Sea and try exquisite regional dishes.
The Restaurant is open for dinner, where you can enjoy local and traditional cuisine. Settle in for dinner, as a family or with your sweetheart, on the large terrace overlooking the zero-entry pool.
Whether it's à la carte or half board, sample delicious grilled meats, John Dory with a sauce vierge, Provençal-style prawns and warm goat's cheese salad.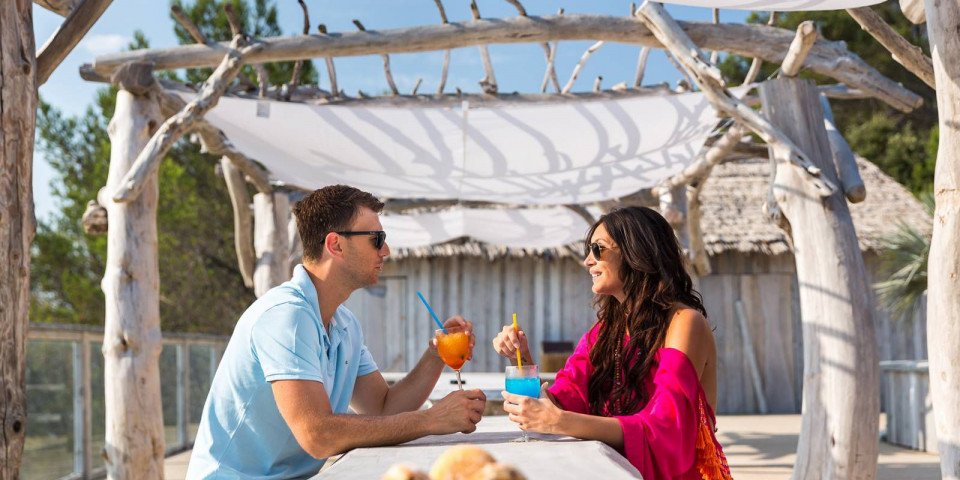 Art Travel Bar – quench your thirst in Fréjus
daily from mid-June to September
during off-peak season: 11:30 a.m.-11 p. m. during peak season: 11:30 a.m.-1 a. m.
Visit Art Travel Bar and travel around the world through food and drink. Attend concerts, exhibitions and events with your loved ones! Grab a table on the large terrace next to the restaurant and settle in for an evening of summer vibes.
Enjoy events, concerts and sports broadcasts as you savour a cocktail with friends, indulge in a sweet treat with the kids or have that last glass of wine before the night is over.
Bars and Snack Bars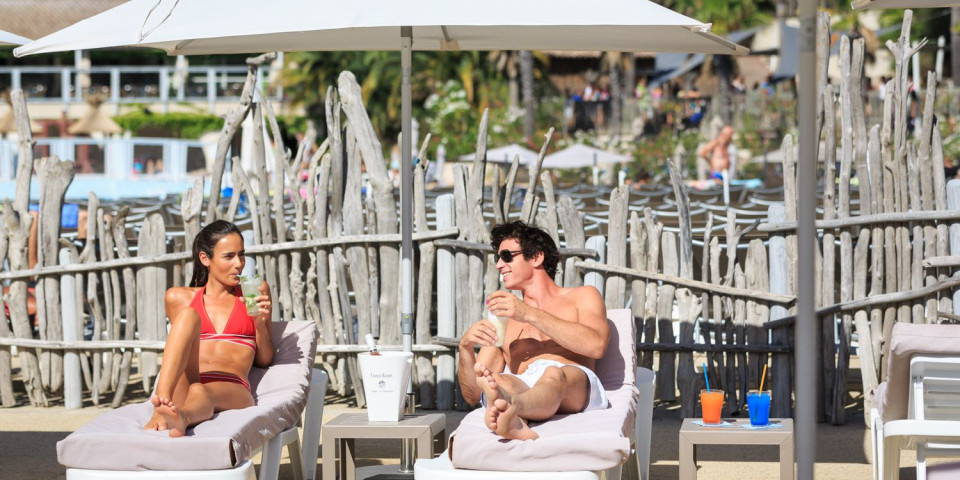 Lounge Bar – a poolside bar
Sit back and relax on the pool complex's private beach, which has been elegantly decorated with driftwood, and enjoy a breathtaking view of the Massif de l'Esterel. As you lounge about on your beach mattress, savour a delicious cocktail that has been prepared by our talented barman, and catch up on the news with a selection of regional newspapers (available upon request).
Are you getting a bit peckish? Indulge in an ice cream, a sandwich or a salad! All you need to do is sit back and enjoy the lounge music.
In the evening, have fun at the unmissable Soirée Blanche where musicians, DJs and other performers work to create the most unforgettable of night's out!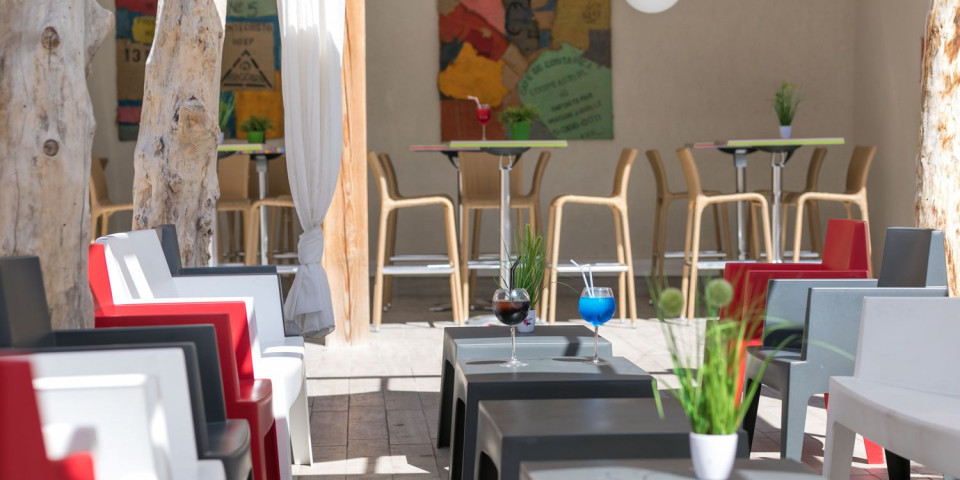 La Paillote, a snack bar by the water
daily from May to September
during peak season: 11:30 a.m.-11 p.m. —During off-peak season: 11:30 a.m. -6 p. m.
The campsite's iconic La Paillote has a varied range of delicious offerings for you to sample, such as charcuterie and cheese boards, sandwiches, burgers, paninis, chips, hot dogs, crepes and ice creams.
Settle in on its shaded panoramic terrace opposite the pool complex, and enjoy a fantastic view overlooking the water, where you can admire the patchwork art created by Bernard Bezzina. Enjoy a delicious Caesar salad, fish & chips, or cheese burger here.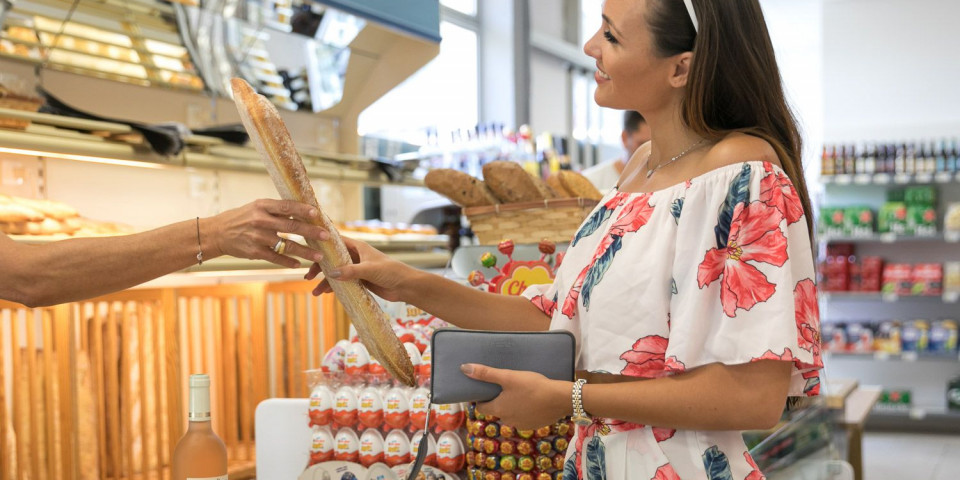 Chez Tony et Sandy - a deli and bakery in Fréjus
daily from May to September
during peak season: 7:30 a.m.-8 p.m. —During off-peak season: 7:30 a.m.-7 p. m.
Check out the bakery (with freshly baked bread and pastries), as well as fresh produce, fruits and veg, drinks, essential items and regional delicacies.
Settle in on the terrace, and have breakfast, savouring freshly baked croissants and baguettes, as you take in a bit of sun and enjoy the spectacular view of the 5-star campsite.
Make unforgettable memories here! La Boutique Presse is the best place to pick up a souvenir, a postcard, beach games or even newspapers.