Camping tents – how to choose the right tent
If you love the outdoors, then camping is a great way to relax and spend quality time with family and friends !
When you rent a camping pitch in Europe with Sunêlia, you can experience a luxury holiday with the freedom to enjoy the campsite facilities and the surrounding countryside. Camping in the fresh air is also good for your health – you'll go home feeling exhilarated!
Where to pitch your tent in Europe?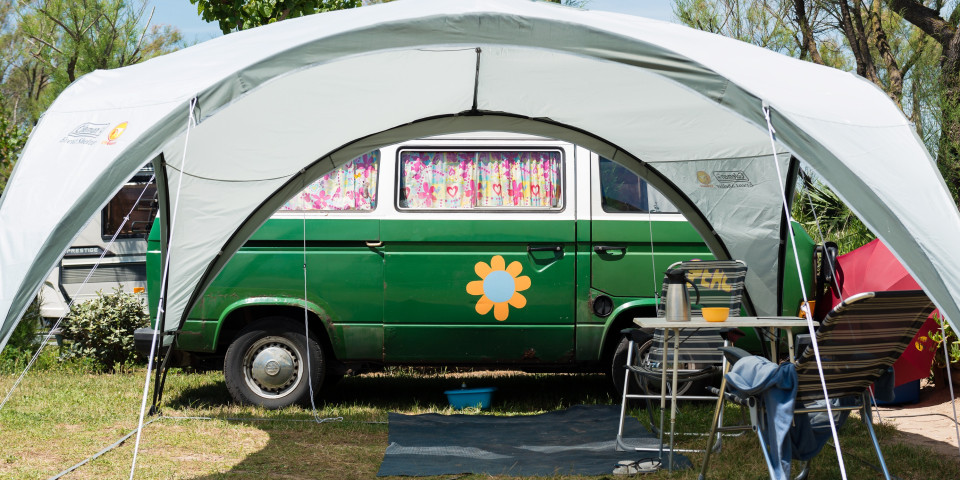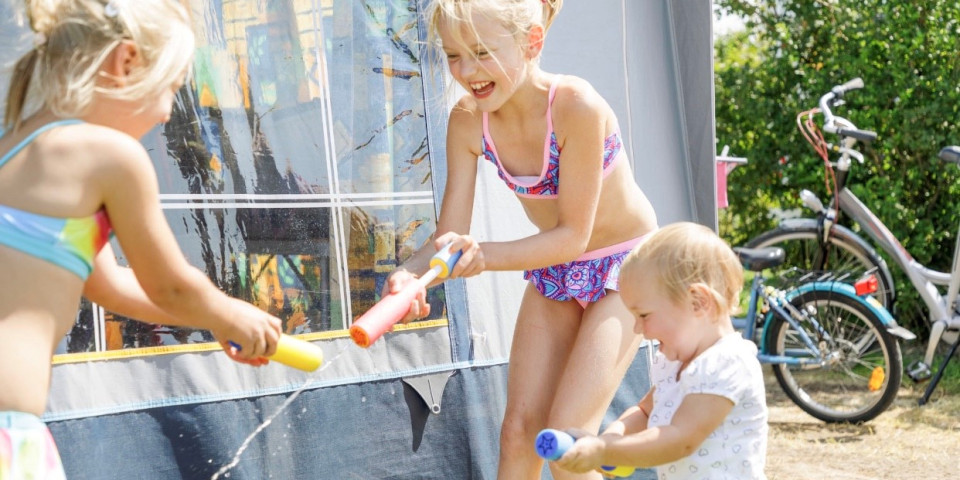 Connect with nature in style
We have a wide range of campsites with camping pitches for tents. You can camp by the sea or camp in the mountains. If you're searching for a luxury outdoor holiday in Europe, why not choose a campsite in France?
With campsite rentals all over France, you can choose to explore the history of the north, the glamourous French Riviera or the French Pyrenees. Every one of our campsites has spectacular views that you can enjoy from the comfort of your camping chair.
France offers a great camping experience if you're planning a special holiday. You can camp near the Atlantic, in the Alps or head for a campsite next to the Mediterranean.
This is a chance to get to know the French culture, explore the local villages and sample the delicious cuisine.
Are you a glamping fan who loves the comforts of home? You can try glamorous camping in France this year and discover the beauty of the French countryside and beaches.
Camping by the sea
If you enjoy camping holidays next to the beach, why not book a pitch at a campsite in Spain or Italy? Many of our campsites have direct access to the beach. You can pack a picnic and spend the day on the sand without worrying about having to get in the car.
The kids can splash in the waves and build sandcastles all day while you relax with a good book. Take the chance to explore the region where you're staying and discover tranquil, secret beaches away from the tourists.
Have you considered a campsite in the Netherlands for your next camping trip?
Our campsite in Holland has plenty of campsite pitches for caravans and tents with lots of space to set up your holiday home. This is the perfect location to hire a bike and discover the flat Dutch countryside at your own pace.
If you travel to the Netherlands in spring or early summer, you'll see the fields filled with colourful tulips – it's the perfect photo opportunity!
How to select a tent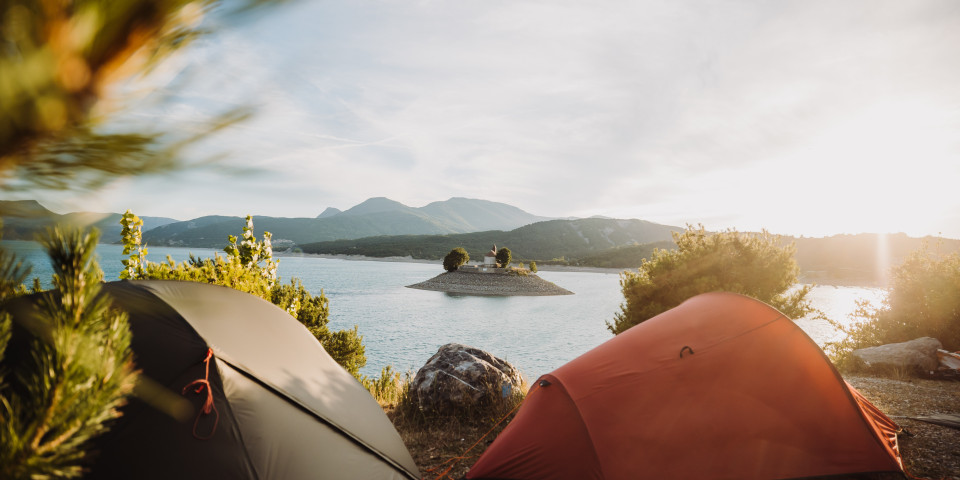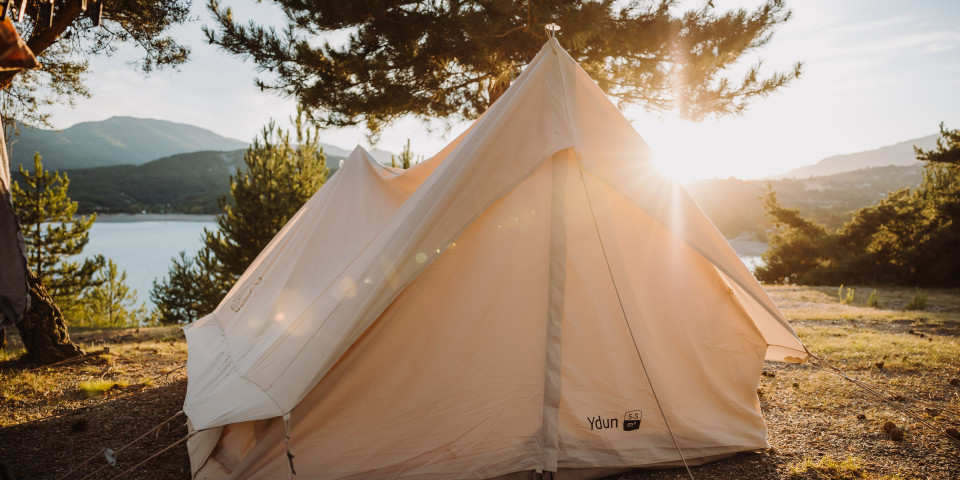 What size tent do you need?
When buying a tent you should consider how many people will be going on your glamping holiday. If you're planning a dream campsite holiday for several people, you'll need to look at large tents that offer plenty of space for everyone.
From festival tents to dome tents or family tents, a reputable outdoor store will have a range of tents from leading brands so you can pick one to suit your budget and needs. Some tents have several separate rooms, which is great if you want some privacy.
Couples will only need a small, lightweight tent, especially if you're camping in Europe during the summer as the weather is usually warm.
If you are taking your dog camping with you, (many of our campsites accept pets), don´t forget to allow some room for them, too. You'll also need space to store your tent accessories and equipment like a table and chairs, a cooking stove, pots and pans, a torch, a first aid kit and a mallet to knock in the tent pegs.
What else should you consider when buying a tent?
While it might not rain much at your luxury campsite in Europe, you should choose a tent that's waterproof. There's nothing worse than waking up feeling cold and damp because it's rained the night before.
You can also buy tent rain covers from a camping shop. It's also always a good idea to pack a raincoat just in case! Before you decide which tent to purchase, review a buying guide online to compare the features and benefits of each tent.
With such a large range of tents on the market, it's important to choose one that is easy to put up and take down. This will make sure you have more time to enjoy your break at a Sunêlia luxury campsite.
If you've never put up a tent before, have a practice run in your back garden before you set out on your holiday.
Get the kids to help you and the tent erecting ceremony can be a joint effort! This means you'll be able to erect the tent quickly and have more time to enjoy the campsite activities.
Why camp in a tent?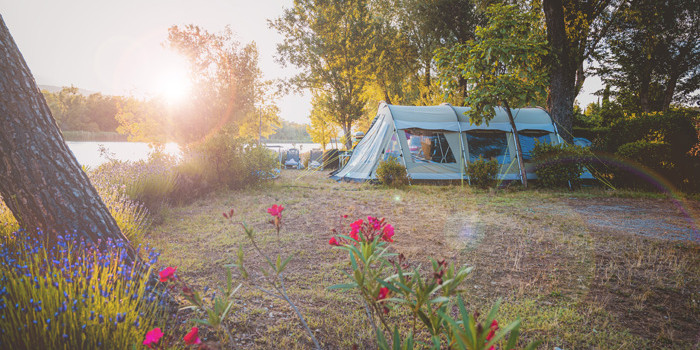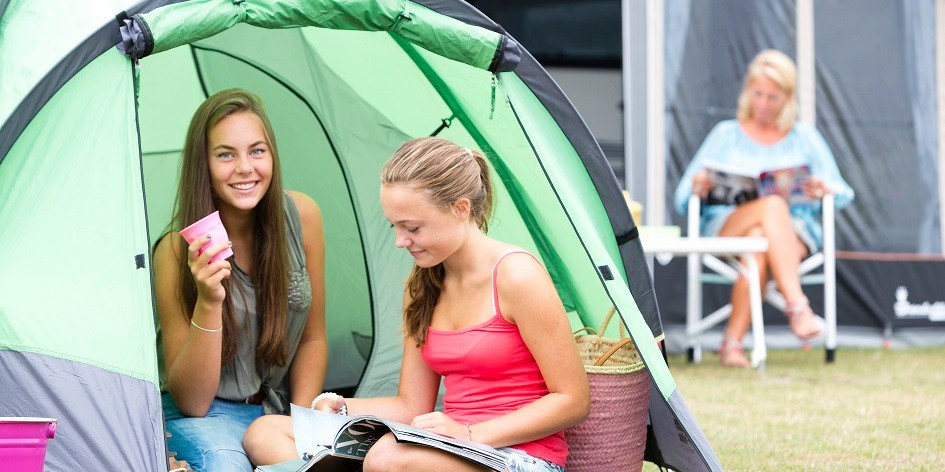 Tent camping is fun for everyone
It's time to plan your summer break! Do you know where to go on holiday this year or what type of break to book? Family camping holidays are a great way to spend time with your friends and family without the distractions of day-to-day life.
You can spend this special time together and create memories you'll have forever. Camping in Europe is also a great way to show your kids a different culture and get them to practise their French or Spanish!
You can go hiking or cycling and explore the area near your countryside campsite. If you're taking your bikes with you, we have plenty of campsite motor home spaces or you can rent a bike locally. Cycling is the ideal way to discover hidden coves and the unspoilt nature of Europe at your own pace.
You can stop for lunch in a fishing village or take a picnic and swim in a lake. Then you can return to your luxury campsite and prepare dinner or eat at the campsite restaurant before spending a relaxing evening together stargazing.
A relaxing way to enjoy an outdoor holiday
Camping in nature in a tent is a great way to connect with nature and enjoy the peace and quiet of the countryside. You'll enjoy unique experiences you wouldn´t do at home like fishing and can have a go at the water sports on offer near your campsite.
Whether you want to windsurf, paddle board or kayak – you can do them all on a camping holiday in Europe. Several of our campsites are also located near equine facilities, which is ideal if you love horse riding.
Do you need a holiday to switch off? Are you looking for peaceful surroundings with activities for all ages?
Camping lets you get away from it all and wind down, especially if your day-to-day life is busy. Camping in the countryside is a chance to recharge your batteries and do simple things, like playing board games or cards.
Forget the screens and electronic devices – a relaxing chat over a beer or glass of local wine while watching an amazing sunset is much better for you.
The benefits of staying in a tent at a campsite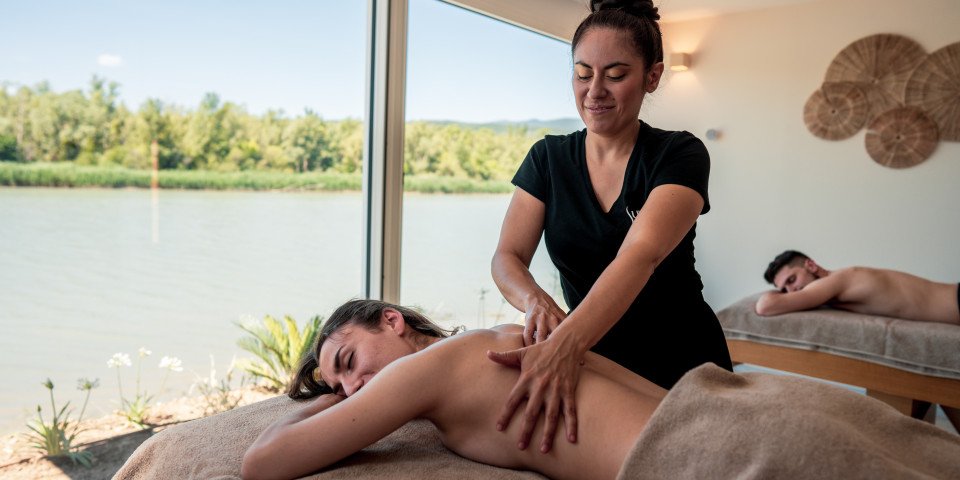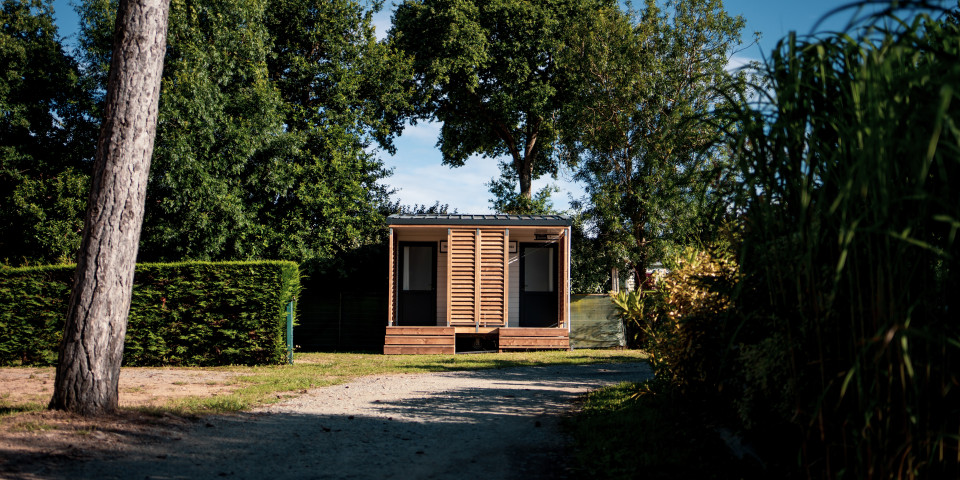 Enjoy the luxury camping's equipment
When you stay at a Sunêlia 4-star campsite or a 5-star camping location, you can enjoy great campsite facilities while sleeping under the stars.
We have campsites with waterparks for the kids to play in, campsites with heated pools if it's a little chilly and many of our campsites have a spa where you can treat yourself to some 'you time'.
Wake up to the sound of the birds and the warmth of the sun before spending the day beside the campsite pool, on the beach or taking a cool forest walk.
Luxury facilities on your doorstep
Staying in a tent doesn´t mean you won´t have the basics. All our campsites with pitches for camper vans and tents have private sanitary facilities so you can freshen up when you need to.
If you're feeling active, you can take part in the campsite sports activities such as football, tennis or aquarobics before a swim in the outdoor pool. You'll never be bored in the evening either! You can cook your food on your camping pitch or head to the restaurant before watching the campsite entertainment.
How to prepare for your camping trip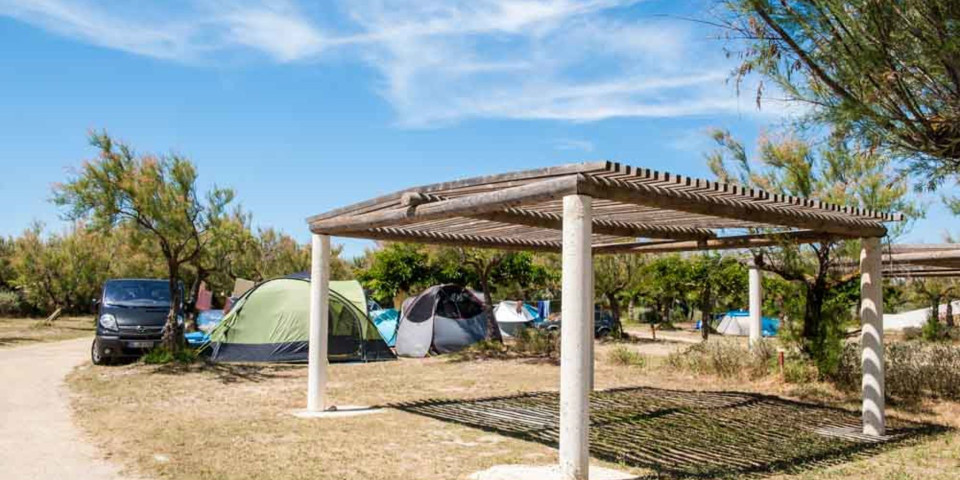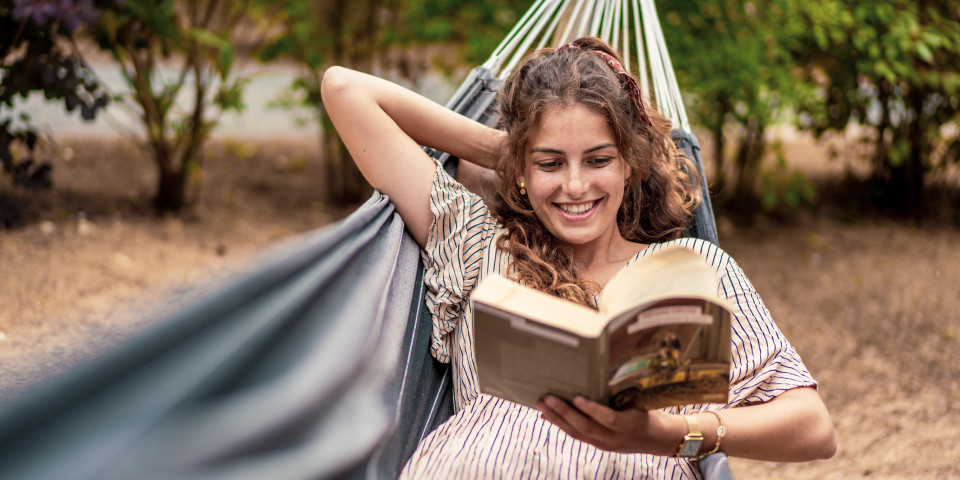 Choose a great location
Part of the fun of a camping holiday is choosing where you're going to stay. Do you want to go to the north of France, eastern Spain or the Italian coastline?
Would you prefer camping in the mountains with direct access to a lake where you can cool off or do you want to park your camper van next to the sea? Sunêlia campsites are all located in areas where you can easily reach a nearby village, get to the sea in minutes or walk through forests.
There are so many campsite facilities on offer! We have swimming pools, water parks and kids' clubs - there's something to keep everyone entertained.
The beauty of staying in a tent on a campsite is that you get to do things together as a family or a group, which is a great bonding experience. If you're into fitness and outdoor sports you can walk, cycle or surf whenever you wish. Forget the timetable – you're on holiday!
The secret is to be organised
It's always a good idea to make a list before you go on a camping trip. That way, you won´t forget anything important. Imagine arriving at your dream campsite and discovering you've forgotten to pack the sleeping bags!
A checklist means you'll arrive at the campsite with everything you need, from your pillow to plenty of your favourite snacks. By being organised, your whole family can have a stress-free camping experience near the beach.
You can buy fresh produce at the local market or campsite shop, but it's also a good idea to take a few provisions for when you arrive.
Before you leave home, make sure you've got everything on your checklist. Pack your vehicle carefully so you can get to anything you might need on the journey. Remember not to forget the tent and the tent accessories!
If you're crossing the Channel in your car or motor home, the kids will need things to keep them occupied on the journey. Take regular breaks so everyone can stretch their legs and get excited about your campsite destination.
Once you arrive, you can find a place for everything and then sit back, relax and enjoy your camping holiday.
For an unforgettable adventure in the great outdoors, book a tent campsite holiday and enjoy a touch of luxury and the wonder of nature.
3 key points to remember
Tent camping gives you the opportunity to do what you want when you want to
Pitching a tent on a campsite will allow you to use the site's facilities
We have campsites close to some of the most beautiful beaches in Europe