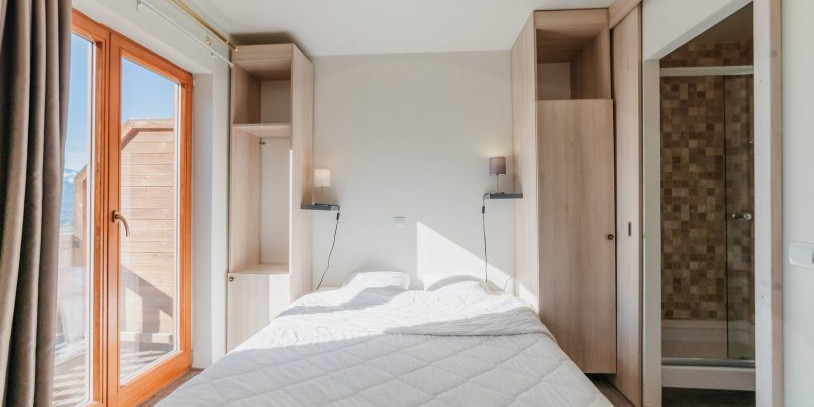 In brief
Air-conditioned accommodation
Arrival time 16:00
Departure 12:00
Warm and friendly accommodation
Services included
Double Studio 37m², with balcony
Max. capacity: 5 persons
Studio 1 (20m2): Kitchenette with dining area, television, coffee maker, microwave/grill, 2-burner stove.
1 double bedroom. Bathroom with shower. Separate WC.
Studio 2 (17m2):
Small living area with 1 single sofa bed, television
Corner room with 1 double bed.
Bathroom with shower. Separate WC.
Sweet dreams with our Sunêlia Beds

Because at Sunêlia, camping rhymes with comfort, we concentrate all our efforts on providing hotel services worthy of the name. During your stay, discover the Sunêlia Beds, unique bedding models in the world of outdoor accommodation.
Designed with industry leaders, Sunêlia has developed a mattress specially designed to preserve the quality of your sleep during your holiday.
Available in all the accommodation in the Luxury and Prestige ranges, these top-of-the-range beds give your stay an incomparably soft feeling. With high density memory foam, you can sleep soundly with Sunêlia Beds.
Get pampered with our Hotel Pack
At Sunêlia, it's camping, only better! Discover our hotel package, to be complemented by the services you prefer.
Beds made when you arrive in your accommodation, end-of-stay cleaning taken care of by the campsite, household linen provided, equipment hire...
We take care of everything just for you. From baby kits to all-inclusive packages, enjoy a camping holiday with all the comfort of a hotel at Sunêlia Vacances.
Book with peace of mind!
We have thought of everything:
Warranty cancellation offered
Our similar accommodation