Down by the Water


Sunêlia Le Ranc Davaine
The pool complex is a must for the whole family during your stay at the campsite!
With its islets, wooden pontoons and leafy beaches, Sunêlia Le Ranc Davaine has two incredible 7,000 m² pool complex with separate pools.
Guests of all ages will have lots of fun in the indoor and outdoor pools, under the waterfalls and in the jacuzzi, while our youngest guests splash and slide about in the pool area.
What's new in 2023 at Camping Le Ranc Davaine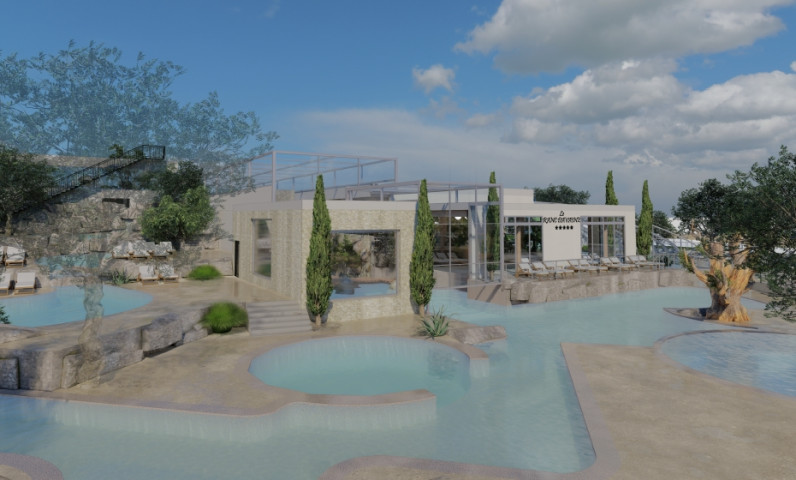 Your Sunêlia Le Ranc Davaine campsite has been given a makeover!
From this summer onwards, discover the many new features that are hidden in the water park:
The covered lagoon, to fully enjoy a swim alone, with your partner or with your family,
The wave ball, a unique innovation in the region that will awaken thrill-seekers,
Beautiful heated and covered pools that will please young and old alike who like to swim in all seasons,
And many other great projects such as a large veranda area where you can have a drink, a completely redesigned waxworks...
To find out what's new, come to the Ranc Davaine this summer!
*Non-contractual photos
Our water park
Outdoor pools
from mid-April to late September
10 a.m. – 8 p.m. during peak season and 10 a.m. – 7 p.m. during the off-peak season
The outdoor pool complexes at this 5-star campsite in the Ardèche are connected via islets, swimming corridors and wooden footbridges.
Spread over 461 m², you can dive into the water to splash about, burn off a few calories during water activities or just chill out.
Fitness fans can sign up for water polo and water basketball tournaments.
Do you want to relax? Whether you're visiting as a family or with your sweetheart, settle in amongst the waterfalls and unwind in this idyllic area.
Time to unwind! Between dips in the pool, top up your tan (or just nap!) on one of the solarium's sun loungers dotted around the pool. Picture yourself on the banks of a river surrounded by olive trees, laurels and bamboo trees, where turquoise waters reflect the sun's rays.
Covered and heated pools
from mid-April to late September
10 a.m. – 8 p.m. during peak season and 10 a.m. – 7 p.m. during the off-peak season
427 m² covered pools that are heated during the off-peak season
With 2 covered and heated pools, you can unwind in the covered pool at Sunêlia Le Ranc Davaine. Relax in the waters of this 131 m² covered pool under a retractable glass roof for when the good weather comes.
Do you like sporty holidays? The swimming pool is much loved by lane swimmers who want to do a few lengths, be it alone or with their family. Why not take part in an aqua fun class or in a fun pool game, led by our team of enthusiastic activity leaders?
Would you rather relax?
This indoor pool is entirely dedicated to your wellbeing and is the perfect place to relax! Luxuriate in the relaxation pool in this bright and pretty area. Let go in the covered spa, which can be used for free with no time limit and relax as a family or with friends.
At dusk or dawn, relax in the gentle warmth of the sun that shines through the dome. Settle into the calm atmosphere and relax to the max.
Slip and slide on soaring slides
from mid-April to the end of September
Two 2.5m multitrack and winding slides
Are you looking for a thrill? Head down to the 4-track flume slides, which are very popular with kids and teenagers! Dare the dizzying 2.5-metre descent on the winding slide!
Once you've started your descent, pick up speed and arrive at full speed in the pool where bubbles and laughter are one and the same!
You won't soon forget the emotions, happiness and memories that you've made with your family.
Paddling Pool and Water Games for your Kids
daily from mid-April to the end of September
123 m² outdoor paddling pool
With their own pool area, we haven't forgotten your little ones at this campsite in the Ardèche!
Under the watchful eye of their parents, your kids can play in the specially designed water play area.
This shallow paddling pool has giant fountains and a rainbow with a thousand hydro jets to tickle your little ones. They can learn about the water as they let their imagination run wild amongst the pontoons, crocodiles and imaginary piranhas.